GxP Systems Consulting Service
Implementing a validated software system in pharma organization is not a simple task as everyone involved in one is well aware of. To minimize the risks and successfully implement a GxP system in a regulated environment requires a great GxP Systems Consulting partner that understands the underlying technology, business requirements and regulations.
We at intilaris understand that completely as we have been delivering GxP systems implementation projects over the past decades at major pharma companies. Our lean and agile approach to GxP systems implementation delivers faster Go-Live with regulatory compliance.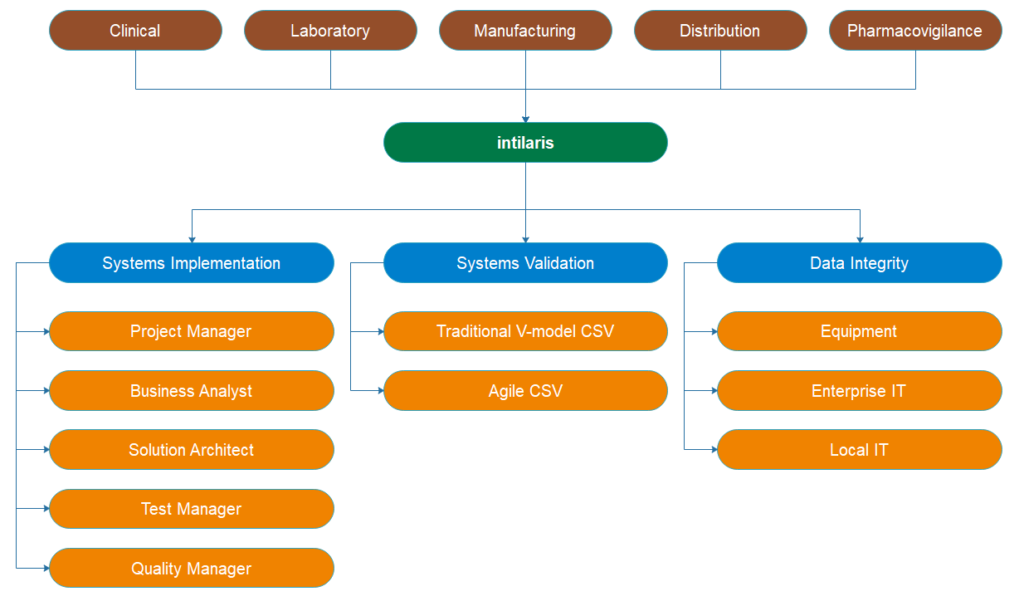 GxP Systems Implementation
Implementing GxP systems when organizations are transitioning to cloud-based technology solutions requires a team capable to address the following challenges: compliance, global roll-out, defining data integrity and information security, and readiness for long-term scalability.
The successful GxP implementation requires engaging cross-functional stakeholders to define system requirements aligned to the organization's business goals.  This initial step is critical for the overall success of the implementation project. Our Business Analysts and Solution Architects use their extensive hands-on experiences to engage the stakeholders to define the requirements and to guide the technology providers to configure and deploy the system matching the intended use.
Our highly experienced subject matter experts apply risk-based systems validation to execute the implementation in the most optimal, yet compliant way possible. We have experience with most of the currently used technologies and extensive hands-on experience with implementing systems and integrations for:
Digital Clinical Trial Protocol
Automated Study Build
Electronic Data Capture (EDC) Systems
Meta-Data Repository (MDR) systems
Data Management Systems
Clinical Integration Environment (CIE) Systems
Clinical Data Warehouse (CDW) Systems
CTMS Systems
CDMS Systems
Validation of the GxP relevant computerized systems in life sciences industry is one of the basic requirements. The digitalization and increasing automation in the industry has contributed to  growing complexity in the IT space and integration between various systems. That increase in the complexity has the corresponding increase in the cost of compliance.
To reduce the cost of your compliance our consultants can support your validation efforts in either:
Traditional risk-based V-model Computerized Systems Validation
Agile Computerized Systems Validation
Since life sciences industry is a very competitive it will continue to rely heavily on technology and any software solutions that support business activities must be implemented quickly. We believe that executing an Agile methodology for a regulated computer system is a perfect way to meet these requirements for cost-effective yet fast delivery of validated systems. We will work closely together with client's quality organization to fine-tune the Agile approach, ensuring delivery of the benefits of Agile while providing a validated solution in compliance with the regulations. We will support you to establish the key elements to ensure the success of your Agile transformation.
With either of the two approaches, we will support your organization to achieve:
GxP validated IT systems and processes
Compliance to current standards: 21 CFR part 11, Annex 11, and GAMP 5
Validation cost reduction
Data integrity verifies the degree to which data collected at the point of capture, including the metadata,  is complete, consistent and accurate throughout the data lifecycle. Integrity of source data is essential for  meeting patient expectations and regulatory requirements.
We support you to ensure compliance with the regulatory guidance for data integrity. In other words, we ensure that data flow within customers IT systems maintains it's integrity through managing the risks to impacted IT systems and the controls in place to mitigate those risks. We support you to manage the risks, controls and best practices for all types of IT systems:
Equipment and instrumentation
Enterprise-wide IT systems
Local IT systems
Our approach to data integrity is supporting ALCOA principle, i.e. created data is attributable, legible, contemporaneous, original and accurate. Furthermore, the data is maintained in complete, consistent, enduring and available state throughout its lifecycle.