TransCelerate DDF GxP Implementation

To support our pharma clients in implementing DDF solution, we have established unique offering for TransCelerate DDF GxP Implementation. Our clients benefit from this approach as it combines AGILE implementation methodology with regulatory compliant GxP process and taking into account end-to-end (E2E) solution.
However, broad cross-functional change management and process alignments are essential for the success of such implementation project in any pharma organization. Our clients benefit from our experiences in helping organizations transform and prepare themselves to benefit from this initiative.
For an in-depth conversation on this topic, please reach out to us.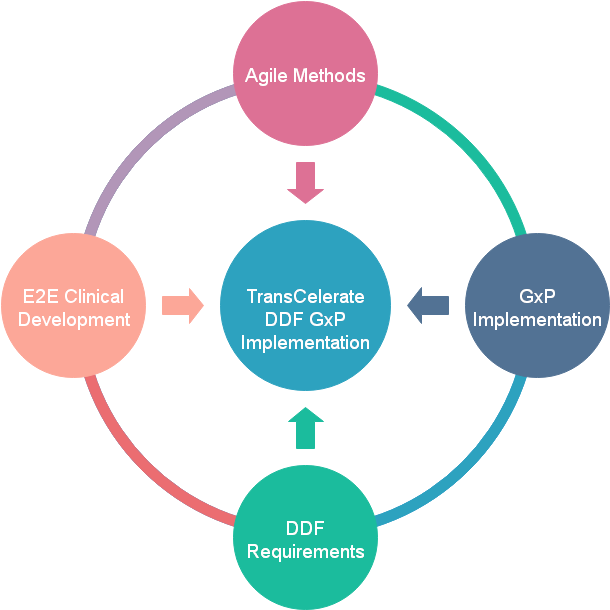 Optimizing Study Development Process
Over the last few years, TransCelerate organization has been working on a conceptual solution framework to optimize processes and automate study development from concept through to study start-up, called TransCelerate Digital Data Flow (DDF). The overall vision of the DDF solution is to engage with technology providers to establish an open, flexible, and vendor-agnostic clinical protocol (study setup) platform that can seamlessly integrate downstream clinical applications.
TransCelerate DDF solution, would enable system interoperability across clinical study development process, improve efficiency and data quality, while reducing cycle times. The solution will serve as a focal point within a broader ecosystem of applications, including upstream data sources that contribute to effective study design and modeling, but also downstream systems that are used to manage studies, collect and analyze data.
Our Approach to TransCelerate DDF GxP Implementation
We combine our 4 strengths to bring about a unique offering for our clients in implementing TransCelerate DDF solution:
Each of our strength is carefully aligned in the implementation project, and we can take on a wide range of roles: Business Analyst, Solution Architecture, IT Implementation and Deployment, Quality Management, Validation Expert, Test Manager and Testers. We have been living and breathing GxP project implementations for the past 20+ years with a range of global pharma companies and are very familiar with most of the solution providers and systems in the clinical development landscape.
Our consultants have taken a part in TransCelerate DDF initiative since its inception and have taken a part in the recent Hackathon contributing to the solutions consideration by the TransCelerate team. The breath of our experiences spans across clinical development domain and includes: Target Product Profile (TPP), Clinical Development Planning (CDP), Clinical Trial Designs, Clinical Data Standardization (sponsor and CDISC), Data Collection, Management and Reporting.