Over the years, we have experienced challenges for drug development sponsors when extending the clinical development in a new indication. Therefore, we have developed a cost-effective approach to apply our expertise to support Clinical Development leaders to plan, design, and execute efficient clinical projects in new indications.
Re-purpose your compound for new indications
It is very important for drug developers to repurpose their compound and enter into many of the disease areas in which their compound might provide benefits to the patients. However, entering a new indication is usually challenging due to the team's unfamiliarity with the indication, it's characteristics, specificity, and risks. Another obstacle might simply be a budget constraint and one needs a detailed overview of potential indications in order to make a qualified decision into which indications to move first. These factors might prove detrimental for assessing and selecting the right indication opportunities.
Re-imagine clinical development in a new indication
Wouldn't it be great if the clinical project team would have a detailed overview of the new indication even before they start to plan and design trials? Such an indication overview would include:
Approved products and how they were developed
Current research in the field and details of their development effort
What do we need to tackle development in the new indication?
What is the best practice in the new indication?
Who are the main competitors and in which direction are they heading?
What are the main endpoints used in different trial phases and how did they develop over time?
What are the main target population characteristics and how could you differentiate?
What risks can we expect and how to mitigate them?
Usually, each project team would undertake the research task in the new indication differently. What if the research overview would be presented in the same way for each of the new indications and thereby reveal bigger or smaller potential and in consequence bigger or smaller opportunities?
That is exactly what we, at intilaris, are passionate about: support clinical development teams by providing a competitive overview of the new indication to provide a stepping stone to clinical project teams to gain an instant head-start, for a fraction of the cost that it would normally take.
How do we conduct clinical development in a new indication?
We can do that, because we have applied years of clinical development experience into a platform applying a data-driven approach to the research of the new indications and are capable to perform it quickly, reliably, and cost-effectively.
An example of one of the value creations that we deliver and use in our team-building workshop is the overview of the endpoints used in the targeted indication (Fig. 1). The benefit of it is quite evident in providing a clear overview to the clinical project team of the most important endpoints to focus the attention on. Similar value creations are provided for other aspects of clinical indications, e.g. patient population characteristics.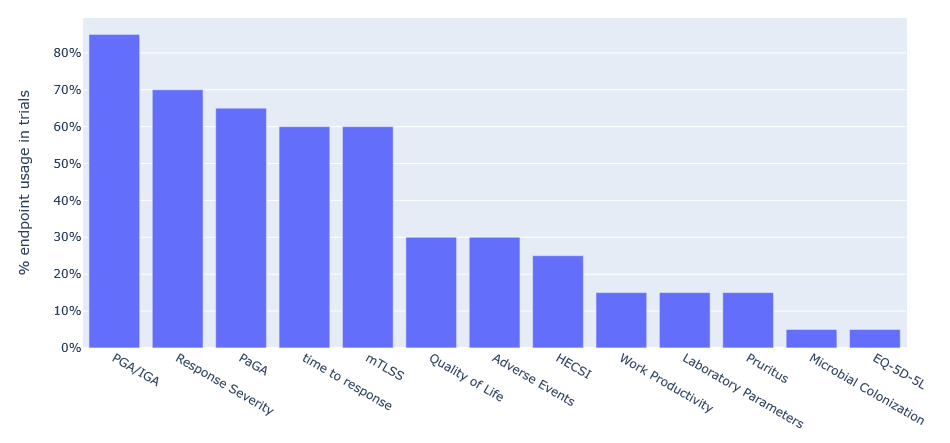 Fig 1. Endpoint usage across all trials for Chronic Hand Dermatitis
Common and consistent indication overview
Our standardized output deliveries (known as Reference CDP) provide a common and consistent indication overview for qualified decision making and referencing. These deliverables provide insights into details of the successfully developed products and/or current development directions. Based on these reports you would be able to determine if you have appropriate experiences, resources, and risk-mitigation in place before you decide how you conduct the development in the new indication. Furthermore, such standardized deliverables would bring significant contributions to your Clinical Development Excellence.
Team building experience
Last but not least, a structured and common indication overview creates a great platform for your clinical project team building. Our workshops, where we present the indication research results are an excellent catalyst for idea generation by your clinical team, leading to your new innovations in the development. The workshops and it's content typically provoke a constructive discussion within the team on an indication-specific topic that was presented, resulting in a unique team experience of being well ahead and clear on the challenges and risks associated with the new indication.
Our support team is ready to help you get a head-start and accelerate development in a new indication.